Last Update: April 20, 2018
​Desert Kennels Latest News:
​
Our Collies and Dobermans are now AKC Bred With Heart certified!!
​Please visit the American Kennel Club's website to learn more about the Bred With Heart program.
​A commitment to health testing and education for the future of these unique and wonderful dog breeds.
​​​October dog show results: Trek earned a 2nd leg towards his Rally Novice Obedience title.
​Tundra earned his Rally Novice Obedience title!!
​Charm earned his 1st leg towards his Obedience title at 9 years old!!
​This was Charm's 1st show in eight years.​ Favorite Pet Companies page
with links to sources of dog equipment I use; including my favorite collars, dog coats, diets.
Personality comes first in of my dogs. Herding, ranch and family security dogs with original working instincts and sound minds and bodies are my goal. I select for temperament and disposition first, then original working instincts, health and conformation per AKC/UKC breed standards. I strive to retain original herding, working and guarding instincts weather they will be used or not. I personally believe a dog without them is some how incomplete. I sought out foundation stock to protect my family and work on my ranch and it was well worth it! I expect all of my puppies to be able to provide family, home and ranch security.
I have tried to include a lot of info on this website since so many of my puppies go to first time owners of my favorite breeds. If you have a question that this website doesn't answer feel free to ask, regardless of where you found your canine friend. The breed pages includes the latest puppies, litters, show results, etc. .
The
Contact & Deposits page
has my contact information and a list of some of the questions I might ask you. It also has a BuyNow link for deposits and payments.
An Advanced Deposit will secure your place in line to pick a puppy before it is born.
Advanced Deposits are non refundable as they can greatly influence my future puppy plans.
Advanced Deposits are subtracted from
the purchase price.
Please see the Puppies Now pages for deposit information on puppies that have already been born.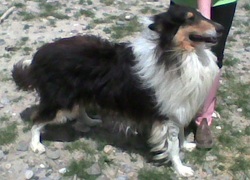 Conner, fondly remembered.
​Visitor Policy: To protect the dogs and puppies from diseases that have no vaccine and dog nappers - we have had to stop inviting people to the ranch. The current Canine Flu outbreak is just one of many concerns that may be on shoes or car tires. I know where my vehicles and I have been. No offense but I don't know what is on the ground from your area. And of course contagions are microscopic. 6 times my puppies have been stolen from their new homes! Please be careful with your new puppy! Consider staying outside with your puppy if it is young enough to be stolen.

​1. A blue merle Sheltie that went to Riverton, WY years ago was stolen from the fenced yard twice by neighborhood children and recovered upon a walk
​ through the area. When the family moved out of town the dog disappeared from a fenced yard and was never found.
​2. A Pyr puppy went to Casper, WY. The same day the family called asking for help because the puppy had disappeared from their fenced yard the first
time they put her out to go to the bathroom. The family went back in the house and left her alone outside for "5 minutes". The following year when a
Pyr puppy went to Casper the woman told me that the year before a "shady" character was walking up and down the streets trying to sell a puppy just
like hers for quick cash!
​3. A smooth sable Collie that went to Wheatland, WY was barking in the fenced back yard one day. Then she yelped. The owner went out to see what
had happened and found no dog, but there was a white van driving away down the alley. The next day the owner put it together when neighbors told
her that 4 other dogs had disappeared from their fenced back yards along the same alley!
​4. A litter of puppies was reported stolen from a local yard last year while the family was at work.
​5. A Wyoming school bus driver mentioned that 4 of her students on the same street had lost their dogs from fenced yards "yesterday". Driving the route
​ that afternoon she noticed a car with a driver that appeared to be watching a border collie in someone's front fenced yard. I have not heard if that
​ border collie or that car have been seen since.
---