Last Update: December 1, 2017
​Desert Kennels Latest News:
​Rough and Smooth Collies at 10 weeks old - fresh photos are up!
Please see the
Collie Puppies Now
page for more details.
​
Collie and Doberman prices and guarantees have been updated.
Advanced Depositors please note: Your price is the price that is/was advertised at the time you made your initial deposit.
​
​October dog show results: Trek earned a 2nd leg towards his Rally Novice Obedience title.
​Tundra earned his Rally Novice Obedience title!!
​Charm earned his 1st leg towards his Obedience title at 9 years old!!
​This was Charm's 1st show in eight years.​ Favorite Pet Companies page
with links to sources of dog equipment I use; including my favorite collars, dog coats, diets.
Personality comes first in of my dogs. Herding, ranch and family security dogs with original working instincts and sound minds and bodies are my goal. I select for temperament and disposition first, then original working instincts, health and conformation per AKC/UKC breed standards. I strive to retain original herding, working and guarding instincts wether they will be used or not. I personally believe a dog without them is some how incomplete. I sought out foundation stock to protect my family and work on my ranch and it was well worth it! I expect all of my puppies to be able to provide family, home and ranch security.
I have tried to include a lot of info on this website since so many of my puppies go to first time owners of my favorite breeds. If you have a question that this website doesn't answer feel free to ask, regardless of where you found your canine friend. The breed pages includes the latest puppies, litters, show results, etc. .
The
Contact & Deposits page
has my contact information and a list of some of the questions I might ask you. It also has a BuyNow link for deposits and payments.
An Advanced Deposit will secure your place in line to pick a puppy before it is born.
Advanced Deposits are non refundable as they can greatly influence my future puppy plans.
Advanced Deposits are subtracted from
the purchase price.
Please see the Puppies Now pages for deposit information on puppies that have already been born.
Desert Kennels: Past, Present and Future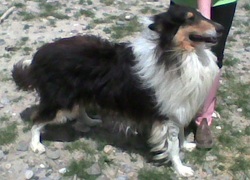 Conner, fondly remembered.
History: Training and showing dogs was my first and favorite 4-H project as a child. I am still active with 4-H and try to help members whenever I can. I have been fortunate in that I have been able to enjoy dogs most of my life. I have been involved in the fancy on the east coast as well as in Wyoming. I was "born and bred" a Collie person. When I moved home to central Wyoming there were no collies to be found in the area. So I bought a Sheltie (my second favorite breed) that I found in the newspaper. I still have my first pet Sheltie now 13 years old.
A few years later I found a Doberman (my third favorite) so I brought her home. Then a year later I finally found a Collie within traveling distance. He even had parents with herding instinct! During this time I had also acquired a couple of ranch bred Pyrenees to protect the place. Now I enjoy them all so much I have three breeds that I just can't let go of!

Present: I groom, train and show all of my dogs myself. It is much more fun and affordable than sending them out with professional handlers. Sometimes my children help me at the dog shows. The Collies and Dobes are American Kennel Club and United Kennel Club registered and shown in obedience and conformation. Some of their pups do very well in 4-H and UKC conformation. I select for original herding instinct in my Collies since it is the foundation for the breed's wonderful family dog personality. I attend a few shows a year. The Ranch Pyrenees are not shown. They are strictly for the ranch but some of their pups have gone on to be great pets and a few have been raised to be therapy dogs. They are predominantly Great Pyrenees and can not be registered. I do maintain the Pyr pedigrees to document their working talents.

Future: I hope to maintain and enhance original working instincts. I also health test my adult dogs for the future of the breed.Puppies: I believe in personality first. All puppy personalities are evaluated before they go home. I can recommend a puppy for you or you can pick one out yourself. Puppies are also encouraged to pick their own people, as they are very good at it! All puppies go home with health records, breed specific information, and lifelong advice. Health and personality guarantees are available. Some puppies may go home with breed books. All AKC puppies go home with "limited" papers. However "breeding rights" are available for an extra fee when the puppy is purchased. OR If you do the health testing and reporting in the puppy contract I do not charge extra for the breeding rights. There may be a small paperwork fee from the registry to change
"limited" papers
to "full" with breeding rights.

Litters: Please contact me regarding the next planned litter and the number of advanced reservations that I can still accept. I average one or two Doberman and Collie litters per year. When there are enough homes waiting I allow a Ranch Pyr litter during the summer. I can accept non refundable deposits to hold specific puppies. A 12 Month advanced deposit will also hold your place in line to pick a puppy. Deposits average $50-150 per puppy and are subtracted from the total price. Deposits are only refunded if I can't deliver a healthy puppy. Sometimes I can drive up to 150 miles for some gasoline money to meet people, depending on the time of year.
Memberships:
I am currently a member of the
Livestock Guardian Dog Association
forum. Collies and Doberman puppies are registered with the
American Kennel Club
and can be registered with the
United Kennel Club
. Some of my adult dogs are also registered with the United Kennel Club.

​Visitor Policy:
To protect the dogs and puppies from diseases that have no vaccine and dog nappers - we have had to stop inviting people to the ranch. The current Canine Flu outbreak is just one of many concerns that may be on shoes or car tires. I know where my vehicles and I have been. No offense but I don't know what is on the ground from your area. And of course contagions are microscopic. 6 times my puppies have been stolen from their new homes! Please be careful with your new puppy! Consider staying outside with your puppy if it is young enough to be stolen.
​1. A blue merle Sheltie that went to Riverton, WY years ago was stolen from the fenced yard twice by neighborhood children and recovered upon a walk
​ through the area. When the family moved out of town the dog disappeared from a fenced yard and was never found.
​2. A Pyr puppy went to Casper, WY. The same day the family called asking for help because the puppy had disappeared from their fenced yard the first
time they put her out to go to the bathroom. The family went back in the house and left her alone outside for "5 minutes". The following year when a
Pyr puppy went to Casper the woman told me that the year before a "shady" character was walking up and down the streets trying to sell a puppy just
like hers for quick cash!
​3. A smooth sable Collie that went to Wheatland, WY was barking in the fenced back yard one day. Then she yelped. The owner went out to see what
had happened and found no dog, but there was a white van driving away down the alley. The next day the owner put it together when neighbors told
her that 4 other dogs had disappeared from their fenced back yards along the same alley!
​4. A litter of puppies was reported stolen from a local yard last year while the family was at work.
​5. A Wyoming school bus driver mentioned that 4 of her students on the same street had lost their dogs from fenced yards "yesterday". Driving the route
​ that afternoon she noticed a car with a driver that appeared to be watching a border collie in someone's front fenced yard. I have not heard if that
​ border collie or that car have been seen since.
---