I have always admired the Doberman breed for their intelligence, loyalty and beauty. I got my first pets in 2000, and I loved them so much that I started raising them
in 2007. I concentrate on personality, health and original working instincts that fit into today's family households. I try to blend American and international bloodlines for dogs that are neither to heavy nor to light in structure. The dogs enjoy showing in Obedience and Rally Obedience. I also show in the UKC (United Kennel Club) breed conformation ring. Abra's Desert Grant is my first home bred UKC Champion. I have high hopes for Gift and Trek in the breed ring. Hopefully Grant and Ivy will be earning their obedience titles this year. All of my adults have natural ears and docked tails. My puppies go home with tails and dewclaws done. Ear cropping is not available in my area. Puppy's ears are the choice of the new family once it goes home. The internet can help you find your regional Doberman club which can help you find the best ear cropping veterinarian in your area.
Currents Studs: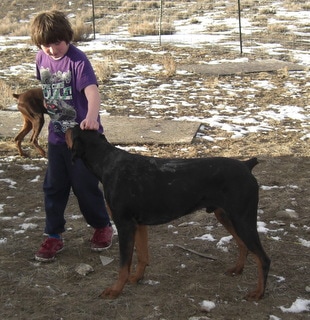 Ch. Abra's Desert Grant:

See his show photos on the Results Page.
​
​Our first home bred UKC Champion from the Bred by Exhibitor class. International Pedigree.
​He has sired blacks and reds and probably carries the dilute gene.
​He is a high drive, alpha dog that has produced good family dog personalities when bred to good
family dog females. ​A very strong, well balanced body structure with nothing out of proportion.
He should also produce high drive working dogs when bred to high drive females.
​We expect him to bring home some obedience titles this year.



Grant was playing in the mud this day.


---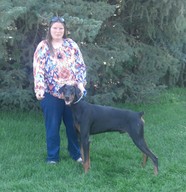 TKS Lord Royals Desert Trek Stud Fee $1,000 Booking Fee $200
​ International Pedigree. von Willebrand's and Cardio 1 gene Clear by Parentage
A low drive family dog boy who is still a real Doberman, protective of his family when needed.
He has a wonderful family dog personality- very playful and gets along with other dogs that get along with him.
​ He is taller and more slender than Grant, similar to American body style Dobermans.
I chose him for his personality and Clear by Parentage genetics.
​ Quite the personality he always wants his family to be as happy as he is and we can't wait to see what he does in the
​ obedience ring this year.

​
---
Girls: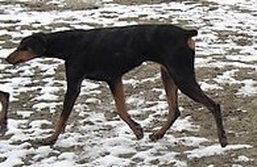 Abra's Desert Gift:
​ See her show photo on the Results page. Grant's litter sister. Together they do well in the Brace Class.
She has UKC points towards her championship.
​ She gets her wonderful family dog personality from her mother Iris.
She has great obedience ring and agility talent since all she wants to do is play and please her family.
​ She has the personality and structure for a great agility career if I could keep up with her. Gift enjoys
​ making her own bed- just give her a big bundle of paper or towels and watch her go to work shredding
​ and fluffing! She is also my "monkey" climbing fences, trees and anything else she can grip with her paws!
​
---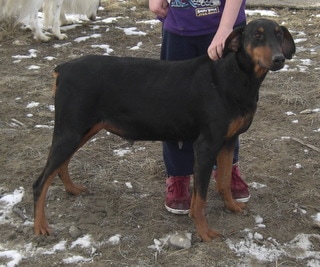 Abra's Desert Ivy:


My perfect family dog. She is very submissive to and very protective of her family members. Also very happy and playful, the most "Velcro" of my current Dobes. Early on Ivy chose to be the bottom of the pack with our other dogs and gets along with everybody. I actually have to remind her that it is ok to keep her puppies in line when she has them. Ivy knows how to crawl under her own blanket. And she smiles whenever she is the center of attention!

​This is a mid pregnancy picture.
---